Like Hoop Jargon? Share Here!
(Via Bleacher Report): There are many questions as NBA free agency opens, so many that one may have slipped under the radar like the team that typically slinks from view this time of year.
Will the Philadelphia 76ers participate this time?
After all, there's hardly ample evidence that one of the league's prouder franchises remains an active member of the league, not with the manner it has operated over the past 25 months. That's how long it has been since Sam Hinkie became the general manager and president of basketball operations—positions he'd never previously held—and began the painstaking, frustrating process that Philadelphians have been repeatedly told to trust.
Trust what, exactly?
The 76ers are coming off just 37 wins in two seasons, the fewest over two full seasons since the Minnesota Timberwolves totaled just 32 in 2009-10 and 2010-11. Last season, they became the first team since the 1999-00 and 2000-01 Bulls to win fewer than 20 games in one season and then win even fewer in the season that followed. They don't have a single player on the roster who is scheduled to earn as much as $5 million next season, and they don't have a single guard who would start on any other team, as evidenced by Tony Wroten's 31 lifetime starts, the most among players at that position on the roster.
They don't have any more leeway.
It's time to start doing right by their returning players and remaining fans—scarce as the first are, and the second may be.
They likely won't be in line for any premium free agents, since not even the most courageous player will embrace the challenge of rescuing the organization in its current state.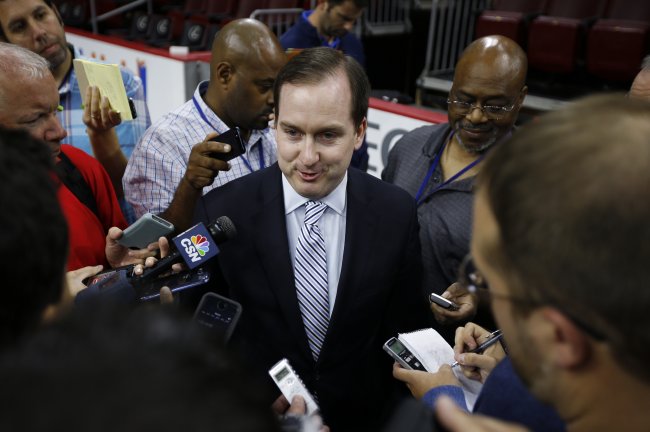 Matt Slocum/Associated Press
As Philadelphia native, former NBA forward and current Comcast SportsNet Philadelphia analyst Malik Rose put it: "They're going to lose a lot of games, in my opinion. I don't see how they can turn things around and win 30, 40 games right now. That being the case, I don't know which vets of significance would want to come be a part of that. It will probably be a lot of vets that need the Sixers as like a job interview, or kind of like on their last legs.
"Plus…they don't have a practice facility yet, and that's a major attraction for free agents. So I don't think this is the year, nor do I think Sam's gonna spend a lot of time trying to go out and get them. It's probably going to be next year or the year after."
Still, Hinkie needs to find somebody, or more like two or three somebodies, to take the plunge and keep his plan from continuing to do so.
He needs to do something in the next couple of weeks that might lead to tangible, rather than just theoretical, progress. Something that shows he knows something about building and grooming rather than just hoarding and losing. Something that shows he's not still in stealth tank mode, shooting for the highest possible lottery slot next season, especially when, after other trades, he's already holding three potential first-round picks.
Something that proves he sees players as more than faceless commodities—as actual living, breathing, growing people. People whose potential is more easily fulfilled when they aren't subjected to seemingly endless losing. People surrounded by others with similarly shallow experience. Or people worried they will be shuffled somewhere else at the first sign of trouble for another slew of second-round picks, or if they win Rookie of the Year like Michael Carter-Williams, maybe a future first-rounder.
Something like convincing a couple of competent veterans to stabilize the rotation, provide guidance and patch any cracks in the culture, all while serving as test cases—examples that the 76ers can hold high when the next crop of free agents comes around.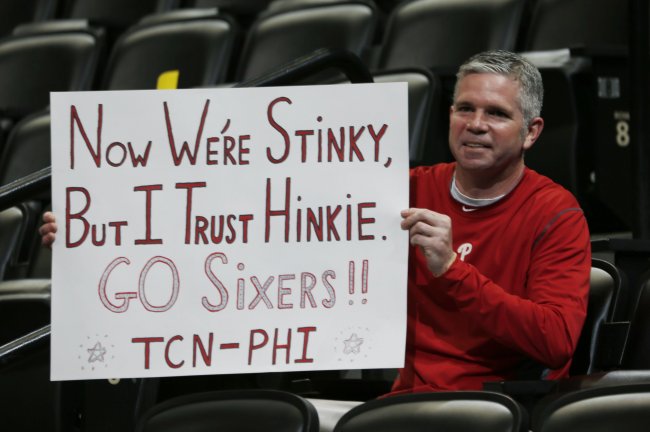 David Zalubowski/Associated Press
Something that shows there actually is a plan.
What is that plan?
It's funny you ask.
That gets a laugh, even from those who are supposed to be supportive.
"Oooh, goodness," former Nets assistant GM Bobby Marks said on Bleacher Report Radio, after recently spending some time with Hinkie and the 76ers. "That's a loaded question there. I know there is a plan."
And that is?
"Man, well, I don't know," Rose said. "There's a long-winded answer to that, and no one gives it better than Sam Hinkie. I would say my short answer to that is I don't know. I really don't know. The plan is, according to Sam, going along according to plan."
I do not like green eggs and ham! 
I do not like them, Sam-I-am. 
"They are accumulating their assets, and building, as they say, something Philadelphia can be proud of," Rose said. "And the fans are OK with that. So I just have to wait."
Are they, though, OK? Still?
As Marks noted, the patience that Philadelphia sports fans have shown so far "is not the norm." They tend to be a little rougher. Ask everyone from Michael Irvin to Santa Claus or anyone else who has felt their wrath. A post-draft poll on Philly.com favored Philadelphia Flyers GM Ron Hextall over Hinkie roughly 3-1 on the question of which executive had earned more faith in building a team.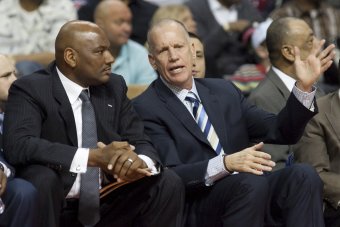 Duane Burleson/Associated Press
"You know what, I'm surprised they've waited this long," said Florida Atlantic University coach Michael Curry, who was a 76ers assistant under Doug Collins from 2010 through 2013, when the team went 110-120 before Hinkie took over. "I wish they were this patient with Andre Iguodala."
That's the reigning Finals MVP with Golden State, who was picked apart during his 76ers tenure for not being a proper primary option during his eight years in Philadelphia. The 76ers traded Iguodala to Denver in August 2012, 10 months prior to Hinkie's hire.
So yes, the ball started rolling downhill before Hinkie brought his analytics-heavy approach from Houston. He just accelerated the decline intentionally.
"Three years ago [on draft night] is when everything changed," Curry said, speaking of a time when Rod Thorn and Tony DiLeo were running personnel. "We drafted Mo Harkless; he looked like he was going to be a good young piece. We brought everybody back. Seemed like we were going to be really good. We had Lou Williams, who was going to be a free agent. All expectations were to bring him back.
"All of a sudden we lose Lou, [and] we made the trade that summer for [Andrew] Bynum. Now they are on this slippery slope to try to find a franchise player and it's difficult. So as far as how long [fans] are going to be patient, I'm not sure. This is a lot longer than I thought they would."
Those fans should be commended for suspending their collective disbelief and proving their pain tolerance, for showing more perspective and restraint than the usual Northeast populace, for trying to give new-age NBA thinking a chance. But they're entitled, at this stage, to start yelling "are we there yet?"—especially when Hinkie can't get the car out of the driveway and instead appears to have backed into the garage, toppling all of junior's toy trains.
It's not Hinkie's fault, necessarily, that the Sixers slipped in the lottery last spring, costing them a shot at Andrew Wiggins and Jabari Parker, nor that the Lakers surprisingly selected D'Angelo Russell second overall last week.
He can't be blamed for taking the consensus best player available, in each case, in the third slot: first Joel Embiid and now Jahlil Okafor. He can't be blamed even though Embiid had a back issue at the time and has developed foot problems since—problems that may sideline him for at least part of a second season; or that Okafor creates a glut of young frontcourt players, with Nerlens Noel already around.
He can't be blamed even though the resulting roster seems better suited to take on the 1984 Rockets than the 2015 Warriors. He can't be blamed for Dario Saric choosing to stay overseas for a second straight season, though that certainly was a possibility when Hinkie sent Elfrid Payton to Orlando to acquire him.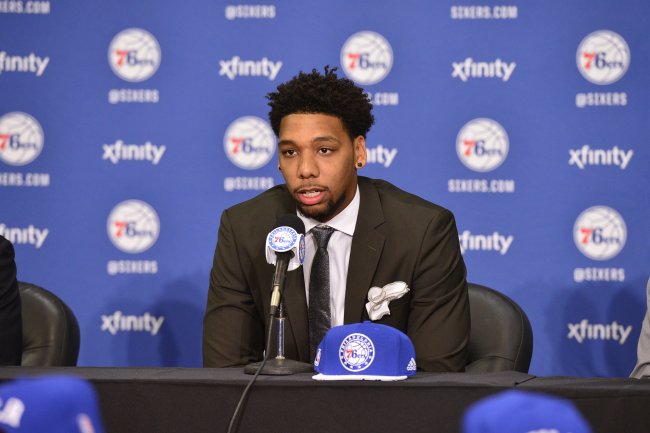 David Dow/Getty Images
Yet he can absolutely be held accountable for the overall strategy, since he has embraced asset collection with more gusto than any organizations that blend it with other approaches.
This is the problem with tanking, or repositioning, or whatever you care to call it. You're at the mercy of uncontrollable misfortune. Karma can be unkind. The pieces don't always fall to you in the way they best fit.
For instance, Okafor, whom Rose called "almost a no-brainer" because of his ability, will create dilemmas. Rose believes it will be "tough" for any two of Philly's trio of center prospects to thrive together, even assuming Embiid, the most versatile of the three, is healthy.
"In today's NBA, man, I just don't see two dominant guys like that working," Rose said. "Simply because they're going to want to be featured on the floor. They're going to want the ball. They're gonna need their 20 touches. And it's just not going to go down like that. It's a different NBA today."
It's an NBA in which the Warriors just won a championship by sitting their 7-footer, Andrew Bogut, to start 6'7″ Draymond Green at the 5, complemented by versatile wings and dynamic guards. And it's an NBA in which, for all the unconventional lineups, there are some traditional truths. One of those is that losing begets losing, unless someone like LeBron James returns home to save a perennial lottery squad.
Another is that role models matter.
"Some of the best lessons I learned as a young player came from just watching vets," Rose said. "It wasn't always a coach talking to me or telling me something. It was going through with it with a David Robinson or a Chuck Person or a Sean Elliott. Watching those guys before practices, before games, after practices, after games, that's where I got my work habits. A lot of those vets aren't in Philadelphia right now. And that's an issue they're going to need to address."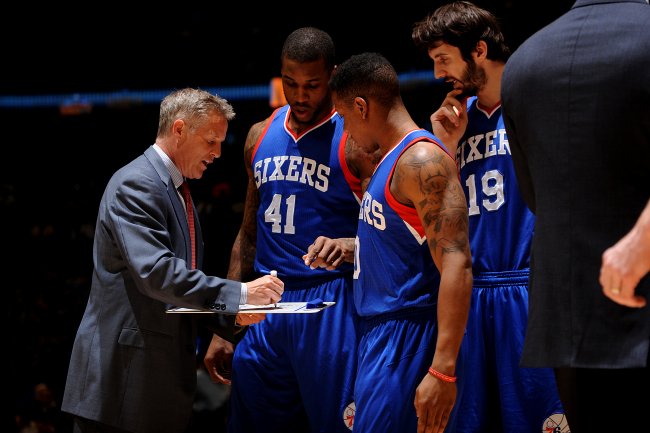 Bart Young/Getty Images
Rose doesn't mean this as a slight to current 76ers coach—and sainthood candidate—Brett Brown, whom he credits as one of his most important coaching influences when the latter was with theSpurs.
"But there's a lot to be said for winning," Rose said. "When a team fights and overcomes adversity and wins the last two minutes of a game, I think that's where your biggest lessons come from. And only time will tell how this team will not benefit from not going through that."
But clocks don't tick slower in the City of Brotherly Love, even if daylight savings time was originally conceived by a Philadelphia favorite, Benjamin Franklin.
"The results are going to have to be there pretty soon," Marks said.
Otherwise, it won't be long before everyone's ticked off.
Comment Here
Like Hoop Jargon? Share Here!